Renters such as interns, students, and young professionals face many challenges while searching a place to stay.
Offer Them A Safe, Insured and Unique Platform With:
MEDIUM TO LONG-TERM HOMES
Ranging from a dorm room to an entire home. Rent weekly, monthly or annually.
Affordable and furnished housing options from various hosts. Utilities included and zero deposit.
Instant and available booking options with a streamlined booking process and post-stay review system.

Dedication, enthusiasm and innovation is what I like about 4stay. #1 Housing management system platform in the market so far
Associate Vice President, International Education & Sponsored Programs at NVCC


I instantly booked my housing before arriving to United States
Terrific product, great customer service, and benefits that far exceed our expectations.
Program Manager at STP Housing Solution
RELOCATION OR MOVING COMPANIES
Helping renters move across town or across the country? Let's talk!
If you're placing traveling professionals like nurses, consultants or interns, you're our crowd.
Have a great blog or channel on YouTube or another social medium? Earn money for each renter you bring to 4stay.
CONTENT OR THOUGHT LEADERS
Have a lot of followers? Why not offer them a safe and affordable place to stay.
Do you identify yourself from one of these types of companies?
Trusted by 500+ Colleges, Organizations, and Companies Worldwide

Easy to Share. With a co-branded link, you can easily share with any renter in the world.
Easy to Search, Find and Book. 4stay offers an easy process search, find and book a place, which means it's quick for you to earn your rewards.
Transparent Tracking. We provide a custom dashboard to each of our partners to track all your referrals and view your earnings in real-time.
The benefits are endless, just to name a few:
Pre-Loaded with Over 250,000 Student, Intern and Young Professionals-Friendly Suppliers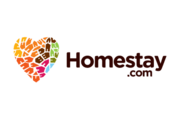 https://4stay.com/your-link